Long Night Out, by Brennan Coleman
Taking back the Internet...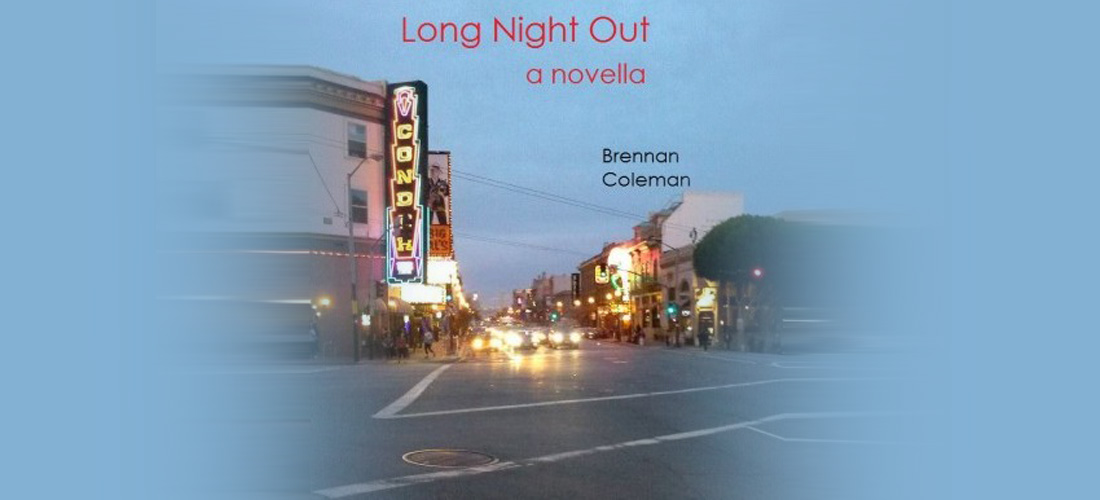 Independently published by Lulu Press, Long Night Out is available in print or as an e-book on Amazon, iBooks, Barnes and Noble, and directly from Lulu.
Long Night Out by Brennan Coleman is a fast-paced tale of danger and life in the big city. This novella is populated by young people with big hopes and dreams who encounter challenges, successes, failures, joys, and tragedies. Finding their way leads to all the places--high, low, and in-between--anyone could ever hope to find in an American city. Their stories, narrated by the reluctant anti-hero Jack Cooper, weave together a frustrating and sometimes heartbreaking tale of near-misses and tragicomic adventures that vividly depict the necessary journey we all undertake in our efforts to embrace life in the world as it is.
According to Wendy Thomas of the U.S. Review of Books, Long Night Out "is a terrific, fast paced, smartly written book":
By all accounts, Jack Cooper is a loser. He dropped out of college, he's got a drug and alcohol problem that put him involuntarily in a psychiatric hospital and he doesn't know what he wants out of life. Plagued by feelings of inadequacies when compared to his prep school friends, Jack feels that he is an imposter both in the financially privileged world as well as that of his low-life buddies.
But you know, there's something about Jack. He's got wit, he's got intelligence and grit, and even when he's snorting and drinking at a party until he passes out you still find yourself rooting for him. He's a likeable guy, you want him to pull himself out of the hell that he has created. You care for this confused, wayward, young man.
Long Night Out is not so much a coming of age story as it is a coming to reality story. A guy continues to make horrible mistakes. He almost loses his life due to his failures and yet he keeps chipping away at righting his life, at doing something right. Somewhere in his alcohol and drug riddled brain, Jack realizes that he needs to grow up. Despite all, he continues to have hope and continues to take baby steps forward. This is a terrific, fast paced, smartly written book that reads like a speed trip, creating a feeling of tension and frustration with a frenetic pace. Jack doesn't like to dwell upon anything for long, although his life is worthy of much more than a cursory glance. It's a style that works well while pulling you into the story.